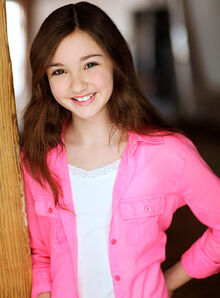 Amariah Faulkner (born 13 May, 2001) is a dancer, singer and actress from Ontario, Canada. She voiced and provided the motion capture for Clara O'Dea, a character appearing in Assassin's Creed: Syndicate.
Faulkner has appeared in several theatre productions, including renditions of The Sound Of Music, The Heart of Robin Hood and Mary Poppins, as well as television shows such as Creative Galaxy, Max & Shred and Daniel Tiger's Neighborhood.
Faulkner is also a Student Member of the Royal Academy of Dance, studying all forms of dance. Additionally, she is receiving vocal and piano lessons. Faulkner competes competitively in both Dance and Music and has received many outstanding and highest score awards and scholarships.
Assassin's Creed works
Assassin's Creed: Syndicate (2015) - Clara O'Dea
External links
Community content is available under
CC-BY-SA
unless otherwise noted.