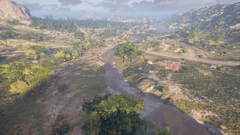 The Alpheios is a river running through Elis and Arkadia in Peloponnese.
The Altar of Zeus within the Sanctuary of Olympia in the Valley of Olympia was said to have been made with the sacrificial ash of the burnt oxen mixed with the water from the river.[1]
History
During the Peloponnesian War, a military camp was set up along the river and named after it.[1]
When the Alpheios flooded in the Middle Ages along with the river Kladeos, the Sanctuary of Olympia was buried under four meters of silt, and was eventually rediscovered in the 19th century.[2]
Trivia
The river is named after the river-god Alpheus.
Appearances
References
Community content is available under
CC-BY-SA
unless otherwise noted.