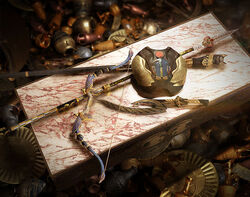 The Almighty Pack is downloadable content for Assassin's Creed: Origins. It was released on 16 January 2018. It is one of the customization packs for the game, it is available on Helix Store for 1000 credits or from Heka Chests in Nomad's Bazaar alongside the Nightmare Pack, First Civilization Pack, Gladiator Items Pack, Wacky Items Pack and For Honor Pack. It is not part of Season Pass. The pack will provide Bayek with 1 shield and 4 weapons.
Description
The Gods have chosen you to bring a swift justice in the world and have bestowed upon you those mighty weapons. This pack adds Seth's Ruler of the Storm (Sickle Sword), Thoth's Balance Shield, the Bark of Ra (Spear), the Stick of Bastet (Scepter) and Nekhbet's Wing (Warrior Bow).
Content
Weapons
Melee
Ruler of the Storm
Bark of Ra
Stick of Bastet
Ranged
Shield
Reference
Community content is available under
CC-BY-SA
unless otherwise noted.