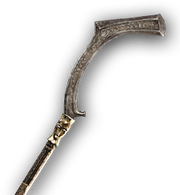 Alkibiades' Axe was a battleaxe which belonged to Alkibiades, an Athenian statesman in the 5th century BCE Greece.
During the Peloponnesian War, the axe exchanged hands after, at the request of Alkibiades, the Spartan misthios Kassandra delivered a package to a man named Bardas at the Akrokorinth Fort in Korinthia.[1]
Weapon statistics
Rarity
DPS (Lvl 99)
Default Engravings
Availability
Rare
7469
+23% Assassin Damage
+30% Damage with Heavy Bladed Weapons
Complete Handle with Care
Description
Alkibiades takes a special interest in all things long and rigid.
Behind the scenes
Alkibiades' Axe, a weapon in Assassin's Creed: Odyssey, shares the same model as the commonly found Harvest Scythe, another weapon in the same game. These are both the recycled model of Medusa, a weapon in Assassin's Creed: Origins.
Gallery
Appearances
References
Community content is available under
CC-BY-SA
unless otherwise noted.