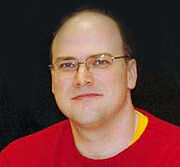 Alex Ross (also known as Nelson Alexander "Alex" Ross) is an American comic book writer/artist known primarily for his painted interiors, covers and design work. His more recent work has been concept art for Assassin's Creed III and the well-known GameInformer cover, which can be seen in the gallery section of this article.[1]
Biography
Early life
Born in Portland, Oregon, and raised in Lubbock, Texas, Alex made his artistic debut at three when, according to his mother, he grabbed a piece of paper and drew the contents of a television commercial he'd seen moments before. Ross came from an artistic family: his mother was a commercial artist and his grandfather, he recalls, "built working wooden toys and loved drawing." When Ross discovered Spider-Man on an episode of The Electric Company, his life was changed forever. "I just fell in love with the notion that there were colorful characters like this, performing good, sometimes fantastic deeds," Ross says. "I guess I knew this was what I wanted to do. I wanted to bring these characters to life."
Later life and career
He first rose to fame with the 1994 miniseries Marvels, on which he collaborated with writer Kurt Busiek for Marvel Comics. He has since done a variety of projects for both Marvel and DC Comics, such as the 1996 miniseries Kingdom Come, which Ross also co-wrote. Since then he has also done covers and character designs for Kurt Busiek's series, Astro City, and various projects for Dynamite Entertainment. His feature film work includes concept and narrative art for Spider-Man and Spider-Man 2, and DVD packaging art for the M. Night Shyamalan film, Unbreakable. He has also done covers for TV Guide, promotional artwork for the Academy Awards, packaging design for comic book tie-in video games, and his renditions of superheroes have been merchandised as action figures.[2]
Art style
Ross' style has been said to exhibit "a Norman-Rockwell-meets-George-Pérez vibe", and has been praised for its realistic, human depictions of classic comic book characters. His rendering style, his attention to detail, and the perceived tendency of his characters to be depicted staring off into the distance in cover images was one of the main attractions the Assassin's Creed team was drawn to when seeking him to develop a cover image for their latest Ratonhnhaké:ton.
Gallery
Videos
External links
References
↑

GameInformer April 2012 issue.
Community content is available under
CC-BY-SA
unless otherwise noted.