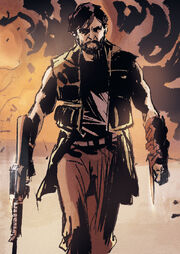 Alekseï Gavrani was a former Soviet hitman recruited by the CIA during the Vietnam War. He was also a member of the Assassin Brotherhood, operating first under the leadership of the rogue Assassin Boris Pash, before turning on Pash in an effort to prevent his corruption of the Creed.
Trivia
Alekseï is the russian form of Alexios, an Ancient Greek name meaning 'defender', while Gavrani is derived from the russian word for 'raven'.
Appearances
References
Community content is available under
CC-BY-SA
unless otherwise noted.