"The famous Akropolis. A testament to humankind's skill and craftmanship."
―Kassandra, 431 BCE.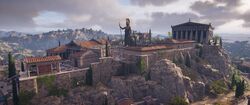 The Akropolis Sanctuary, also called the Akropolis of Athens,[1] was a massive acropolis and citadel in central Athens, Greece. Notable landmarks atop it built out of Naxian marble[2] include the Parthenon, the Statue of Athena, and the Erechtheion. It was also the end point of the Sacred Way that connected the acropolis to the Sanctuary of Eleusis.
History
During the Peloponnesian War, the acropolis was visited by the Spartan misthios Kassandra.[3]
During the 1500s, the Assassin Mentor Ezio Auditore da Firenze sent a group of Ottoman Assassins to recover Isu technology that had been discovered beneath the Akropolis.[4]
Landmarks
Trivia
The Akropolis Sanctuary is anachronistically based on how it would have looked in 346 BC as it contains:[5]

Temple of Athena Nike built in 427-421 BCE
Erechtheion built in 421-407 BCE
Stoa extension to the Chalkotheke with 18 Doric columns (11 in game) built in 375 BCE
Extension to the Brauroneion built in 346 BCE
Appearances
References
Community content is available under
CC-BY-SA
unless otherwise noted.