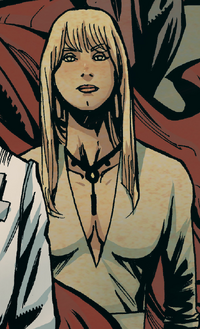 Agneta Reider is the current Chief Executive Officer of the Abstergo Financial Group, promoted following years of employment as their Chief Financial Officer, and a member of the Inner Sanctum of the Templar Order.[1]
Biography
In October 2016, she was present during the induction of Simon Hathaway into the Inner Sanctum.[2] Ten days later, Reider was among those who voted to clear Hathaway of all the charges brought against him, convinced by his speech and that his shady actions were in fact carried out for the benefit of the Templar Order.[3]
In March 2017, the Inner Sanctum invited the new Black Cross to a meeting in Quebec, during which Reider was present. Displeased that he auto-proclaimed himself their inquisitor, they threatened him and demanded to know his identity. The masked man responded that he came only as a courtesy, to inform them that he was investigating an hostile fifth column within the Order. After affirming his independance, the Black Cross dropped a smoke bomb and disappeared. [4]
Appearances
References
Community content is available under
CC-BY-SA
unless otherwise noted.