New Pokemon Games - The Loop
Play Sound
Where are the paintings?


This article is in need of more images and/or better quality pictures in order to achieve a higher status. You can help the Assassin's Creed Wiki by uploading better images on this page.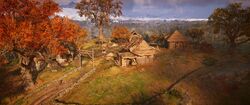 Aelfgarstun was a village and estate in Lincolnscire, England. The namesake came from one of Lincoln's own thegns and lords, Aelfgar.
History
In 875, the Viking shieldmaiden Eivor Varinsdottir of the Raven Clan met with Aelfgar, who had invited her over to hear her expertise on a hunting matter. Throughout their hunt, Eivor and Aelfgar teamed up with another lord, Grim, to hunt down a dangerous bear. After some searching, Grim noticed Aelfgarstun on fire and its inhabitants fleeing the village. The three hunters quickly raced back to the estate, killed the Saxon invaders, and put out the fires. Upon starting to plan for the rebuild of his estate, Aelfgar noticed the bear at his estate and thus the three hunters finally found and killed the bear.[1]
At some point, Eivor also looked around the estate, following a lead from a clue found on a member of the Order of the Ancients. Looking around the estate's farm, Eivor found the next clue on top of some barreled goods. The clue revealed that the name of the member known as "The Billhook" was Havelok, and that he could be found in a villa near Lincoln's town hall.[2]
Appearances
References