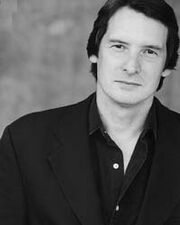 Adrian Hough is a Canadian actor and the voice and motion capture performer for Haytham Kenway in Assassin's Creed III and Assassin's Creed: Rogue. A teenage mime, Hough trained in England to become an actor, where he honed a British accent.
He has appeared in films such as Rise of the Planet of the Apes, X-Men: The Last Stand, The Fog, and Underworld: Evolution. He has also voiced the video game character of Kurt Wagner/Nightcrawler in the 1992 X-Men cartoon and the video game X-Men Mutant Academy 2.
Assassin's Creed works
Assassin's Creed III (2012) - Haytham Kenway
Assassin's Creed: Rogue (2014) - Haytham Kenway
Trivia
Adrian speaks fluent French, which he learned as an exchange student in Quebec.
Hough revealed he only learned Haytham was a Templar the night before shooting the revelatory scene, as he only received the script for the scene then. He had already recorded several scenes for the game, including subsequent scenes with Noah Watts.[1]
Reference
External link
Community content is available under
CC-BY-SA
unless otherwise noted.