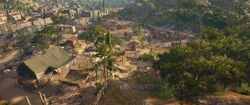 The Acharnai Military Camp was a large Spartan camp north of Athens in Attika, Greece. Located beside the Odomantian's Spartan Camp, it was set up during the Peloponnesian War in preparation of a siege of the city.
In 431 BCE, the misthios Kassandra infiltrated the camp on the request of the Athenian general Kleon, who requested her to sabotage the camp supplies and hamper the Spartan Army.[1]
Trivia
Acharnai or Acharnae was the name of a deme of Athens.
Appearances
References
Community content is available under
CC-BY-SA
unless otherwise noted.