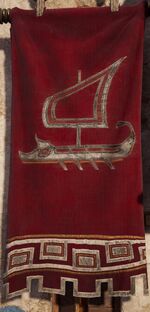 Achaia is a regional unit of Greece along the northern shore of the Peloponnese.
During the Peloponnesian War, Achaia's main cities were Patrai, Pellene, and Dyme. The region's inhabitants were known to be skilled shipwrights and, as such, each city contributed to the region's naval construction in their own way. As a result, Achaia was essentially the shipyard of Greece, and its thriving economy ensured that it had a medium-sized population relative to the rest of Greece in the 5th century BCE. While it harbored abundant raw materials for ship building, vast tracts of land were deforested for this industry.[1]
Regions
Achaia was made up of six regions:
Trivia
The emblem of Achaia features a stylized trireme, referencing the region's status as the 'shipyard of Greece'.
Gallery
Appearances
References
Community content is available under
CC-BY-SA
unless otherwise noted.