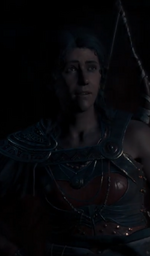 Abrota was a member of the Daughters of Artemis who lived during the 5th century BCE.
During the Peloponnesian War, Abrota and a fellow member Telesilla were part of a rebel faction who made camp near the village of Lalaia. Abrota and Telesilla met Kassandra when she entered their camp. Abrota was initially skeptical of Kassandra's position as her leader. Kassandra asked the two Daughters for assistance in repelling an attack by the Sons of Xerxes on Lalaia. However, Abrota refused to accept Kassandra as her leader. Kassandra convinced her otherwise and managed to secure their help, but had to prove herself against Abrota and Telesilla. After being defeated, Abrota and Telesilla agreed to help the village.[1]
Trivia
Abrota and Telesilla will only appear if Daphnae, the former leader of the faction, has been defeated and killed at the end of Artemis's Request.
Appearances
References
Community content is available under
CC-BY-SA
unless otherwise noted.