This article is about abandoned house on Kephallonia. You may be looking for abandoned house on Mykonos.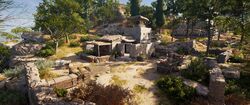 The Abandoned House was a boarded-up former house south of the village of Sami in Coast of Koliadai on the island of Kephallonia, Greece.
By 431 BCE, the house had been abandoned. The mishios Kassandra explored it at the suggestion of Markos, who had heard bandits had made a landfall there, and thought the bandits should be dealt with before they had time to join forces with the local thug Cyclops of Kephallonia.[1]
After kiiling the bandits, Kassandra met Elpenor of Kirrha, a man who revealed him as the bandits' employer. He tasked Kassandra to recover the shroud of Penelope from Ithaka.[2]
Appearances
References
Community content is available under
CC-BY-SA
unless otherwise noted.