Patience, brothers. Soon we will reveal the secrets of this painting.


This article has been identified as being out of date. Please update the article to reflect recent releases and then remove this template once done.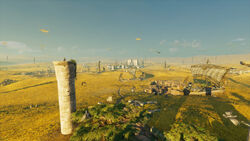 Aaru, the Field of Reeds, was an aspect of the Egyptian afterlife considered to be a heavenly paradise. It resided at the end of a long journey for the recently deceased through the Duat and was considered the ultimate destination of one's soul.
It was not uncommon for living Egyptians to promise a reunification within the Field of Reeds should one's death be seemingly assured.
History
Around 38 BCE, the Mentor of the Hidden Ones in Egypt, Bayek of Siwa, seemingly travelled to Aaru in order to combat the disembodied spirit of Nefertiti, which had been returned to the world of the living thanks to the Curse of the Pharaohs that was plaguing the city of Thebes.[1]
Gallery
Appearances
References
Community content is available under
CC-BY-SA
unless otherwise noted.