GTA: The Criminal Enterprises - The Loop
Play Sound
A Show of Character was a virtual representation of one of Eivor Varinsdottir's genetic memories, relived by Layla Hassan through the Portable Animus HR-8.5.
Description
Eivor travelled to Durrow to meet with Bárid and Flann Sinna, who had just been crowned as High King of Ireland.
Dialogue
Eivor arrived in Durrow at King's Land, where Bárid was waiting outside.
Bárid: Flann is inside.
Eivor: Relax your shoulders. He has as much to gain from this as we do.
Eivor entered the building to meet with Flann. Bárid followed Eivor as Flann was talking with Ciara ingen Medba.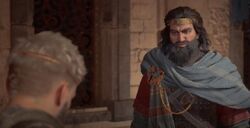 Flann: Bárid. We welcome you to Durrow. It has been a long time.
Bárid: Thank you for meeting with me, lord. I trust our gift was well received?
Flann: Exotic spices, all of which are foreign to me. I am impressed.
Bárid: Only a taste of things to come. Dublin will soon be known as the pillar of Ireland's trade. To a long life and prosperous reign, my king.
Flann: Such fealty. You honor me.
Flann looked to Eivor.
Flann: You must be Eivor. My gratitude, for your selfless actions in what preceded my coronation.
Eivor: Lord.
Flann: It seems my enemies could not wait for my reign to begin before trying to put an end to it. An old tale between Northern and Southern Uí Néill, I'm afraid. But it's one whose ending I will be the author of.
Eivor: Planning a war?
Flann: A High King should have control over his land. And I shall. If it takes a bloody war, I must be prepared for it.
Bárid: Dublin's trade has plenty to offer, and plenty of stout fighters. Eivor included, ready to fight alongside you.
Eivor nodded.
Flann: I appreciate your desire to strengthen the ties between Meath and Dublin. And as much I find myself in need of aid, it appears you find yourself undermined by your own people.
Bárid: What do you mean?
Flann: During the coronation, a monastery was raided and a Christian text was lost. The Book of Kells. Dublin Danes are to blame. Your support would be of great help, let me be clear. But this capriciousness will sooner harm me than help me.
Eivor: I take it the book is important.
Flann: Authored by monks by the monastery of

Iona

some eighty years ago, it was. After the Danes first reached our shores. It was meant to preserve the Christian faith in uncertain times. Today it is a symbol of that perseverance.
Eivor: If I retrieve the book, set straight the ones who did this, would you welcome Bárid into your court?
Eivor:
Whoever these Danes, they acted alone. It has nothing to do with Bárid.
Bárid:
It does not matter. They are Dubliners who threaten the holiness of the land. It would be unbecoming to ally with their leader.
Flann:
It is as simple as that.
Eivor:
If I retrieve the book, set straight the ones who did this, would you welcome Bárid into your court?
Eivor:
If I retrieve the book, set straight the ones who did this, would you welcome Bárid into your court?
Flann: It would help.
Eivor: These Danes, you know where they are?
Flann: In a bog of Inchroe, just north of here.
Bárid: Eivor, this is my responsibility.
Eivor: Remain here. I will see it done.
After talking, Eivor looked around the room and found a letter at the main table.
Urgent Letter to Flann
King Flann,

Upon my return to Armagh I learned one of our monasteries has been sacked. The Book of Kells his purportedly in the hands of familiar Dane out of Dublin.

As the newly inaugurated High King, you have a responsibility to champion and protect the Christian faith. And so I call on you to help ensure the safe return of this text.

I am making my return to Durrow immediately. Together, I pray we can find some sort of resolution.

In addition, I feel I must bring to your attention that we have ceased receiving additional manuscripts after a group of bandits raided and killed the traders at Lisdurrow.

The start to your reign requires you to thwart evil from many angles. You must not fail.

Faith in God,

- Eogan, Abbot of Armagh
Eivor searched further to the northern to find a letter from one of Ireland's kings.
Letter from King Cerball
My king,

Please excuse the haste in which this letter is written, for it is not penned by my scribe's but by my own shaken hand. The pagans, these druids, I am beginning to believe we have underestimated their resolve.

While we attended to the rule of Ireland, they have crept and slithered into our domains unnoticed.

I feel we must convene on this matter. I await your reply.

- Cerball, King of Osraige
Eivor found another letter from another Irish king.
Letter from the Kings of Aileach
High King,

Your letter is rather disconcerting and reads like an accusation, one we vehemtly deny. Perhaps you should look within your own dirty linens for the ones behind this little incident.

And do bear in mind, if we were so inclined to see you to an early grave, we would not have failed.
Eivor saw and read another letter from one of Ireland's kings.
Letter from King Conchobar
My king,

I wish to extend to you my most sincere congratulations on your inauguration.

Your coronation was a feat. Lively and bereft of nothing. And your poetess has the voice of a nightingale, capable of stealing the attention of men in the middle of a bloody battle, I'd say.

Please accept the gift accompanying this letter. It is but a small token of our continued friendship.

Blessings to you and your family.

- Conchobar, King of Connacht
Eivor left the room and went to find the Book of Kells. Eivor traveled and arrived at Inchroe's Bog.
Eivor: Inchroe's Bog. These are the ones who stole the Book of Kells. I should search their stashes for it.
Eivor entered the bandit stronghold and found a note on a table.
Loot Taken:
We took a good haul at Kells. Plenty of silver and gewgaws we can sell for a pretty price.

But what should we do with the book we found? Someone took a long time to make it fancy, but I can't make head nor tail of what's written.

Perhaps one of the crazed Christians will want it.
Eivor: This confirms Flann's information. The book should be here somewhere.
Eivor kept looking around and found another note, which was a dead end.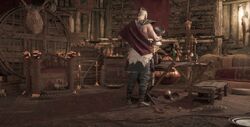 Eivor: Not what I'm looking for.
Eivor investigated and opened a door to inner abode of the stronghold. Inside, Thorstein was taking the loot inside before Eivor surprised him.
Thorstein: Ah! O! It's you!
Eivor: It's you? Thought we told you to leave, Thorstein.
Thorstein: Ah ah! "Leave Dublin." Correct me if I am wrong but ... this is not Dublin.
Eivor: You did not understand you were not to be seen again?
Thorstein: O, come now! How was I to know you would find your way out here? Why are you here?
Eivor: Looking for a book you stole. You raided a monastery recently.
Thorstein: It was several monasteries, actually. These new friends of mine do not tire easily.
Eivor: The book is important to the Christians. I need it back.
Thorstein: The Christians? Hah! See? You are an Irish lapdog.
Thorstein laughed until Eivor gave him a tempered look.
Thorstein: I ... I do not have it.
Eivor turned away from him.
Thorstein: Are you upset? Please, do not be upset. You are upset, hmm?
Thorstein tried to leave but Eivor turned to him angrily.
Eivor: I am running out of reasons to let you live.
Thorstein: I know where it is! Boyne Tombs. Some strange folks offered me this hoard for it. I could not resist! Could you?
Eivor was not pleased.
Thorstein: See? You understand! We are very alike, you and I. I could just as well be your brother, I ... Do not kill me ...
Eivor: Thorstein ... your blood is not worthy of my steel.
Thorstein: I could not agree more.
Eivor: Now vanish. I mean it this time. A third encounter, you will not walk away from.
Thorstein: O, I am through with Ireland. My ankles ache for how I must dance around all these kings. It offers nothing!
Thorstein looked at a grail.
Thorstein: Except for this. I will just take this ... and this...
Eivor left Thorstein and headed for Boyne Tombs. Soon, Eivor arrived at the tombs.
Eivor: Boyne Tombs. Thorstein said I could find the Book of Kells here.
Eivor entered the area.
Eivor: Need to tread carefully. These must be the people who bought the book from Thorstein.
Eivor soon found an entrance and blew up the opening with an oil cartridge.
Eivor: An underground cavern. Whoever these people are, they're secretive.
Eivor looked around and found another pathway, but its door was locked. Soon, Eivor found the key and opened the door. Finding a room, Eivor located and collected the Book of Kells.
Eivor: The Book of Kells. Now, to get out of this ghastly grotto.
Eivor left the tombs and traveled back to Durrow. Upon entering King's Land, Eivor caught sight of the Abbot Eogan talking with Flann and Bárid.
Eogan: It is a violation of the highest degree.
Bárid: This will be remedied soon enough, abbot. You have my promise.
Eivor entered the meeting as the other took notice.
Eogan: The book, have you found it?
Eivor: Its popularity is ever increasing.
Flann: This is Eogan, Abbot of Armagh. The book is for him.
Eivor: I remember. From the coronation.
Eogan: I pray you did not have to endure much to reclaim this.
Eivor: A small price to ensure the high king's patronage.
Eogan looked to Flann.
Eogan: What's this? Lord, you are chosen High King by God Almighty. These are pagans.
Eogan looked back at Eivor.
Eogan: I mean no disrespect.
Eivor: We Norse have hardened shells, abbot. It is why we are liked by so many.
Eivor:
You hear that, Bárid? You can save their lives, protect their religion, and still they treat you like dog shit.
Bárid looked concerned as he coughed in his hand.
Eivor: You have no say here. This is between the two kings.
Eogan:
I only mean to warn Flann of the possible implications, nothing more.
Flann:
And I am well aware of them, abbot.
Eogan: I have spoken past what is right. I will take my leave. Lord, please excuse my clumsy intrusion.
Flann: No need. I am gladdened to see the book back in good hands.
Eogan and his men left with the book.
Eivor: He is colorful.
Flann: I do not blame the abbot for raising alarm. History dictates he has every reason to. What is your report?
Eivor: I have dealt with the leader in the bog. You'll have no more problems coming out of Dublin.
Flann: Then we shall turn our eyes to the problem at hand. Ulster is using its power to sway Connacht. An allegiance that must be snuffed before it takes flame. For that, we need to gain support from the other kingdoms. Speak with Ciara. She will guide you in this.
Bárid: I shall return to Dublin to gather men and resources for the march.
Flann: I welcome them. When we are strong enough, we will meet at Knockfree and devise a strategy.
Flann left for Knockfree as Bárid looked to Eivor.
Bárid: You were gone some time. What happened?
Eivor: The book was in the hands of a strange cult. They procured it from Thorstein.
Bárid: I was weak to spare him. My own son knew better.
Eivor: Chin up, Bárid. We have come into favor with the High King.
Bárid: I will feel better the day Flann's trust in me is not shadowed by doubt. Back to Dublin I go. Talk with Ciara. We must gain favor with the other kings quickly.
Bárid left for Dublin as Eivor went to see Ciara.
Outcome
Eivor assisted Flann in recovering the Book of Kells, helping Bárid gain the High King's trust and favor.
Gallery
References
Assassin's Creed: Valhalla memories