A Familiar Face was a virtual representation of one of Ezio Auditore da Firenze's genetic memories, relived by Desmond Miles in 2012 through the Animus.
Description
Ezio made his way to the former trading post of the Polos, which turned out to be a book shop.
Dialogue
Ezio entered the book shop.
Sofia: Buon Giorno! (Good day!) Merhaba! (Hello!) Please come in.
Ah! Excuse the clutter. I have not had time to tidy up since my trip.
Ezio: You sailed from Rhodes, no?
Sofia: Sì. (Yes.) How did you know?
Ezio: We were on the same ship. I am Ezio Auditore.
Sofia: Sofia Sartor. Have we met?
Ezio: We have now. May I have a look around?
Sofia: Prego. (Please.) Most of my best tomes are in the back.
Ezio began to investigate the bookshop.
Sofia: It is nice to meet another Italian in this district. Most keep to the Venetian quarter and Galata.
Ezio: Altrettanto. (Likewise.) I assumed the Ottoman war with Venezia would have driven most of you away.
Sofia: I lived here with my parents when I was a girl. The war pushed us out, but I always knew I would return.
Ezio found a hidden door.
Sofia: Have you found anything interesting?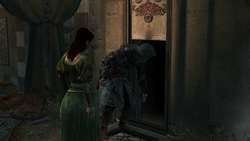 Ezio opened the secret passageway.
Sofia: Mio Dio! (My God!) Who put that there?
Incredibile. (This is incredible.) Where does it lead?
Ezio: Why don't we find out?
Sofia: Who are you, messere (sir)?
Ezio: Only the most interesting man in your life.
Sofia: Ah, che presuntuoso! (Ah, go bury your head!)
Ezio: A presto (Goodbye), Sofia. I will return in a moment.
Outcome
Ezio met Sofia Sartor and investigated the old Polo trading post, finding a way into the Yerebatan Cistern.
Trivia
Ezio's claim to being "the most interesting man in [Sofia's] life" references The Most Interesting Man in the World, the titular character of the viral ad campaign for Dos Equis beer. Furthermore, like The Most Interesting Man, Ezio is an elderly, bearded man who has completed many tasks that would be deemed near-impossible, was a womanizer as a young man, and later in life learned to enjoy alcoholic drinks.
Gallery
References
Community content is available under
CC-BY-SA
unless otherwise noted.