A Common Enemy was a virtual representation of one of Adéwalé's genetic memories, relived by a research analyst at Abstergo Entertainment through the Animus.
Description
Adéwalé, now stranded on Saint-Domingue, sought out the intended recipient of the Templar parcel.
Dialogue
Adéwalé woke up on a beach, and noticed a woman being attacked.
With a machete he found on the beach, Adéwalé killed the overseer and saved the woman.
Adéwalé set out to find a gentleman, Louis Godin, who would lead him to Bastienne.
Adéwalé tailed the man to the brothel La Dame en Rose, where he overheard a conversation between Bastienne and Governor de Fayet.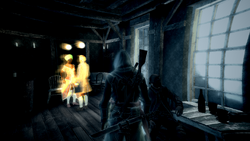 Adéwalé approached Bastienne.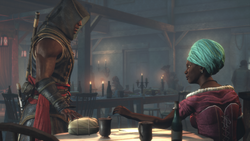 Outcome
Adéwalé received information on where he could start his investigation.
Gallery
References