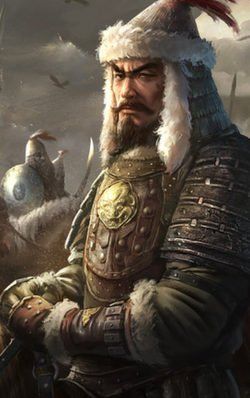 Ögedei Khan (c.1185 – 11 December 1241) was the third son of Genghis Khan and the second Great Khan of the Mongol Empire, succeeding his father on 13 September 1229 and ruling until his death. He was the uncle of the brothers Hülegü Khan and Kublai Khan. 
Ögedei conquered the Jin dynasty of China in 1234.[1] He was killed by the Assassin Nergüi on 11 December 1241, ending his 12-year rule over the Mongol Empire.[2]
Gallery
Appearances
References
Community content is available under
CC-BY-SA
unless otherwise noted.