He who increaseth knowledge, increaseth sorrow.


This article contains spoilers, meaning it has information and facts concerning recent or upcoming releases from the Assassin's Creed series. If you do not want to know about these events, it is recommended to read on with caution, or not at all.

This template should be removed from the article 12 November 2021.
Patience, brothers. Soon we will reveal the secrets of The Siege of Paris.


This article has been identified as being out of date. Please update the article to reflect recent releases and then remove this template once done.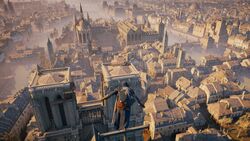 The Île de la Cité is one of two remaining natural islands in the Seine within the city of Paris. During the 18th century, it was one Paris' seven major districts, consisting of the Palais de Justice, Cité and Île Saint-Louis subdistricts. One major landmark was Notre-Dame Cathedral, an immense Gothic-style church that took over one hundred years to complete.[1]
History
In 1314, the Grand Master of the Templars Jacques de Molay was burned at stake on the island near the bank of the Seine.[2]
Landmarks
Cité
Palais de Justice
Île Saint Louis
Gallery
Appearances
References