メール(E-mails)はいろいろな個人に送られた。テンプル騎士団の管理するアブスターゴEmailネットワークとアサシンのヘーパイストスネットワークから送信された。
アブスターゴネットワーク
編集
ヴィディック博士のメール
編集
When accessed by Desmond Miles during his incarceration at Abstergo, he gained access to Warren Vidic's e-mails after stealing his access pen. The Templar's messages revealed more about Abstergo Industries, and the current condition of the world in 2012.
ルーシーのメール
編集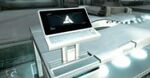 Lucy Stillman openly left her e-mail accessible to Desmond, all of which gave further insight on Abstergo.
会議室のメール
編集
The conference room also held a computer, usually for sending more confidential e-mails, as the room and terminal were both passcode protected. At one point, Alan Rikkin e-mailed Warren, telling him to check the priority updates on the secure terminal of the conference room.
From:
アラン・リッキン
To:
ウォーレン・ヴィディック
日付/時間:
{{{日時}}}
件名:
{{{件名}}}
{{{本文}}}
ヘーパイストスネットワーク
編集
デズモンドは聖域で自分の端末からメールを読めるようになった。また正体不明のエルディートからパスワードを受け取ると、3人のメールを読めるようになった。 メールは互いのコミュニケーションだけでなく、ショーンとルーシーはウィリアム・Mという他のアサシンとも連絡をとっていた。
デズモンドのメール
編集
ルーシーのメール
編集
レベッカのメール
編集
ショーンのメール
編集
DDSネットワーク
編集
アブスターゴのデータ・ダンプ・スキャナー は電子メールネットワークをサポートしていた. だいたいはユーザーにアンケートを送っていたが、例外的にエルディートからのメールが届く。
History Survey
編集
From:
Abstergo Industries
To:
Abstergo recruit
日付/時間:
{{{日時}}}
件名:
{{{件名}}}
{{{本文}}}
From:
Abstergo Industries
To:
Abstergo recruit
日付/時間:
{{{日時}}}
件名:
{{{件名}}}
{{{本文}}}
From:
Abstergo Industries
To:
Abstergo recruit
日付/時間:
{{{日時}}}
件名:
{{{件名}}}
{{{本文}}}
From:
Abstergo Industries
To:
Abstergo recruit
日付/時間:
{{{日時}}}
件名:
{{{件名}}}
{{{本文}}}
Ancestry Survey
編集
From:
Erudito
To:
Abstergo recruit
日付/時間:
{{{日時}}}
件名:
{{{件名}}}
{{{本文}}}

(Note: The following message is sent after responding to the statement "I have Italian ancestors." by offering Abstergo a list of your documented genealogy.)
From:
Erudito
To:
Abstergo recruit
日付/時間:
{{{日時}}}
件名:
{{{件名}}}
{{{本文}}}
From:
Abstergo Industries
To:
Abstergo recruit
日付/時間:
{{{日時}}}
件名:
{{{件名}}}
{{{本文}}}
From:
Abstergo Industries
To:
Abstergo recruit
日付/時間:
{{{日時}}}
件名:
{{{件名}}}
{{{本文}}}
Influence Survey
編集
From:
Abstergo Industries
To:
Abstergo recruit
日付/時間:
{{{日時}}}
件名:
{{{件名}}}
{{{本文}}}

(Note: The following message is sent after responding to the "INFLUENCE" question by saying that if they suspect you of being easily manipulated, then they are wrong.)
From:
Erudito
To:
Abstergo recruit
日付/時間:
{{{日時}}}
件名:
{{{件名}}}
{{{本文}}}

(Note: The following message is sent after responding to the "INFLUENCE" question by saying that you generally get what you want from people.)
From:
Erudito
To:
Abstergo recruit
日付/時間:
{{{日時}}}
件名:
{{{件名}}}
{{{本文}}}

(Note: The following message is sent after responding to the "INFLUENCE" question by saying that you are not good at manipulating people.)
From:
Erudito
To:
Abstergo recruit
日付/時間:
{{{日時}}}
件名:
{{{件名}}}
{{{本文}}}
Empathy Survey
編集
(Note: The following message is sent after responding to the "EMPATHY" question with "Whose side do you want me to take?")
From:
Erudito
To:
Abstergo recruit
日付/時間:
{{{日時}}}
件名:
{{{件名}}}
{{{本文}}}
From:
Abstergo Industries
To:
Abstergo recruit
日付/時間:
{{{日時}}}
件名:
{{{件名}}}
{{{本文}}}
From:
Abstergo Industries
To:
Abstergo recruit
日付/時間:
{{{日時}}}
件名:
{{{件名}}}
{{{本文}}}
From:
Abstergo Industries
To:
Abstergo recruit
日付/時間:
{{{日時}}}
件名:
{{{件名}}}
{{{本文}}}
Intruder Survey
編集
(Note: The following message is sent after responding to the question "What do you know about Erudito?" with "Erudito?". Erudito is pleased that you pretended not to know about him.)
From:
Erudito
To:
Abstergo recruit
日付/時間:
{{{日時}}}
件名:
{{{件名}}}
{{{本文}}}
From:
Abstergo Industries
To:
Abstergo recruit
日付/時間:
{{{日時}}}
件名:
{{{件名}}}
{{{本文}}}
From:
Abstergo Industries
To:
Abstergo recruit
日付/時間:
{{{日時}}}
件名:
{{{件名}}}
{{{本文}}}

(Note: The following message is sent after responding to the question "What do you know about Erudito?" with "I've already filed a full report on him.")
From:
Erudito
To:
Abstergo recruit
日付/時間:
{{{日時}}}
件名:
{{{件名}}}
{{{本文}}}
特に記載のない限り、コミュニティのコンテンツは
CC-BY-SA
ライセンスの下で利用可能です。