Main games:

Spinoffs:
Media

Development

Events
You can join our discord here: https://discord.gg/4tGhMz6.

Apprentice Initiative

Article Tutorials

Top Articles

Community

Follow Us

Article Improvement
Bureaucrats


Administrators

Rafiq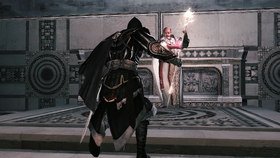 "It's finished, Rodrigo! Lay down your arms, and I'll make sure the end comes swiftly."
―Ezio to Rodrigo during their confrontation, 1499.
During 1499, the Assassin Ezio Auditore da Firenze discovered that the location of the Vault lay in the city of Rome, beneath the Vatican.
Upon learning of this development, members of the Italian Assassins prepared themselves to fight through strong opposition and assassinate Ezio's foe Rodrigo Borgia within the Vatican to gain access into the fabled Vault.
Dealing with the Templars responsible for the death of his father and brothers, Ezio assassinated Rodrigo's allies scattered across Italy, taking his quest through Florence, Tuscany, Forlì, Venice, and even Spain.
With the death of all his followers, only the Grand Master himself remained. Ezio journeyed to the Vatican to avenge the deaths of his father and brothers and confront Rodrigo and discover the secrets of the Vault. (read more...)

See all Featured Articles - Vote for Featured Articles
These are the

newest articles

that have been added. Please ensure that they are named properly and do not duplicate any existing articles.

Loading RSS data...

To write a new article, just enter the article title in the box below. Don't forget to categorize them!

Not sure where to start?

Things that need improvement

Adding content

Community

"Bring me the answers and the road that leads to the truth. Reveal to me once and for all, how all of this will end."

-2827 days until Assassin's Creed III PC release.

==Affiliates==

16,441 articles since July, 2007
42,203 images uploaded since July, 2007
52,000+ readers daily
4,281,900+ page views per month
622,000+ visits to the Assassin's Creed Wiki per month
116 user registrations since July, 2007
889,116 edits made since July, 2007




Desmond Miles retrieving the Apple of Eden in the Colosseum Vault




John Standish talking to his colleague in the Bunker